New Gen Foundations On The Block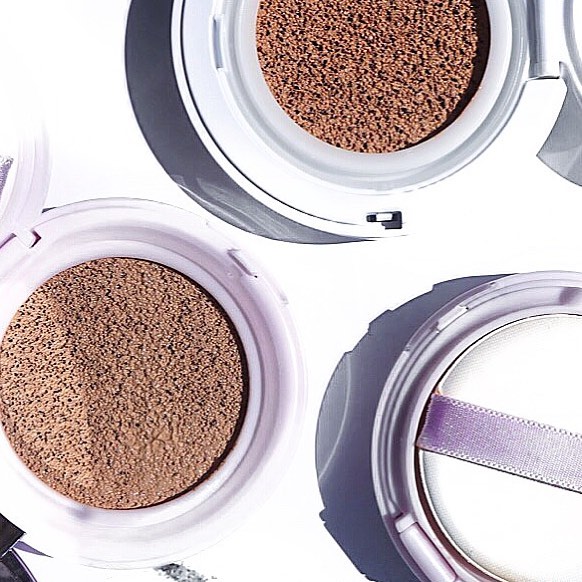 WHY YOU SHOUL HAVE ONE IN YOUR CAR, YOUR MAKEUP BAG, YOUR BEAUTY ROOM
AND IN THE FRUIT BOWL....
When people ask me what foundations I tend to go for on a day-to-day basis, I often say "Cushion Compacts" with excitement!
Their response or facial expression usually leans on the "puzzled" side - no really!
Questions that follow...
- Does it even have enough coverage?
- What's the staying power like?
- Is this really your go-to everyday product?
With the way makeup trends are going, its hard for some people to believe that some of the best foundation don't come in a glass bottle with a pump!
Cushion compact foundations are my go to base because they are super easy and quick to apply. Cushion compacts have Sponges that filters the liquid formula to smooth out and even skin for a naturally luminous look.
A few dabs on the puff all over the face, gives you buildable coverage in no time. Added bonus, no matter how much you pile-drive on, this stuff will always look like skin. A little dewy, so lightweight and very quick to pop on. Did I mention these products are makeup bag, travel bag friendly?
No need to lug a glass bottle around or worry about it spilling/pumping out inside your precious beauty bag ...or worse, your designer handbag!
I've also used Cushion compacts in day-time, outdoor shoots with lots of natural light and the overall skin look - etherial!
YSL CUSHION COMPACT
A luxury cushion compact that provides medium coverage. The formulation is best suited for normal to oily skin-types. However, I have used this cushion compact on my dry skin and the formula still looked amazing, without clinging to any dry areas.
Like most cushion compacts, you can purchase refills valued at $58.00AUD so that you don't have to buy the entire unit again.
IT COSMETIC CC+ Veil Beauty Fluid Foundation SPF 50+
This foundation has your serum (skincare), coverage (it's pigmented) and SPF50+ (awesome sun protection). Perfect for all skin-types but market towards the drier, more mature skin types.
This compact brightens and color corrects whilst providing hydrating, luminosity and an SPF 50+ UVA/UVB Broad Spectrum. It's a Physical Only, Non- Chemical Sunscreen protects that your skin from damaging UVA/UVB rays. However, to get the full sun protecting benefits, you need to reapply regularly, just like normal sunscreen.
L'OREAL PARIS nude magique cushion
You can go from sheer and super natural, to medium with decent coverage in no time. A more affordable option that still performs just as well as it's high end competitors, the Nude Magique Cushion provides a fresh, luminous glow that mimics skin.
The shade range does run a little pink for me, so you might have to buy two shades and mix, given the limited shade range and under tones. Refills cannot be purchased and the packaging is a little "flimsy" compared to the high-end compacts.
MAYBELLINE dream cushion foundation
Another beautiful liquid foundation in a convenient compact. This Maybelline compact is quite similar to the L'Oreal Nude Magique cushion, but I feel like it provides the skin with a little more coverage. You can start of light and sheer and really build it to a proper medium coverage foundation. It's glow, very skin-like and you really can't use too much of this product. The puff needs to be replaced often - not going to lie, it's pretty cheap and wears down easily, so make sure you pick up some extra puffs.
LANCOME Miracle Cushion
I really like the formulation and the way the product sits. However, I did find it difficult when picking the right shade. The undertones were a little off and once again, more on the pink side. The shades didn't really cater for yellow/greenish undertones. I eventually purchased 2 compacts, two diffract shades and started mixing. This isn't an issue for me as I'm often mixing my foundations regardless, creating my own unique formula best suited for my skin type. This foundation builds up to a medium coverage and does a superb job at evening out the skin tones, giving it a fresh luminous finish. For a flawless finish however, you will have to use concealer over perky blemishes or pigmentation. Refills are also available or purchased in a bundle for $90.00AUD total.
MIRENESSE 10 collegan cushion compact
One of my most used compacts, the foundation formulation is just divine. As a drier skin type this does not settle into my laugh lines. It also sits very well, and doesn't migrate anywhere should the weather be a little hot or humid. I have been living in this all summer and now all winter. You can go either way, sheer and luminous or medium coverage with skin-like glam. This has skincare ingredients that help brighten the skin (great for my pigmentation) and a sun protecting factor of 25++. It constantly delivers hydration all day long, and I have never any issues with dry patches on my skin.
Keep in mind that all high end and affordable puffs don't wash well. You should head to priceline, boots, CVS and purchase a pack of disposable puffs - I wouldn't bother washing them.